I know I said I was going to write about the product management website – that will be coming soon. While reviewing the current functionality of the product management website (and I was actually getting ready for the blog post) we discovered a couple of issues, which I need to correct before trying to take you through the process.
So … instead I am writing about Keyman 7 Beta 1.1. I don't want to call it Beta 2 – we haven't got all the major issues corrected yet – we haven't even started addressing most of the issues reported! But there have been a lot of changes over the last 2 and a half weeks (is that all?!?) and we'd like to get them out for review and testing as soon as possible.
I am quite tempted to put out a weekly build – except that the process of:
the usual commit/build/test process (which we run multiple times a week),
uploading to the website, and
writing about the changes
just takes up too much brain space and probably pushes out the release date each time we do it. So we'll release updates as frequently as seems necessary… Which is pretty obvious, really.
In the Beta 1.1 build, we have corrected/completed approximately 150 issues/featurepoints (50 of which were listed on the online beta issues list). Major work has mostly been done in Keyman Developer, and focused around the user experience in the keyboard editor, package editor, branding editor and distribution editor. We are also about 75% through converting the Keyman Developer user interface to 100% Unicode (previous versions of Keyman Developer ran on Windows 9x and only had selected Unicode components).
We have a few more build/test cycles to go through before Beta 1.1 is ready, and then we'll upload it. While you are waiting, here is a screenshot of the updated Keyboard Editor to whet your appetite (font smoothing/ClearType is unfortunately switched off in this screenshot as I am grabbing it over Remote Desktop tonight):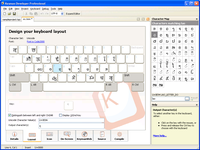 There are still some issues in this screenshot – the "Font is Code2000" text; the preview key display is messed up; the watermark is overwhelming… but you get the idea. However, the most important feature is the inclusion of the Source tab – you can see all the changes you make to the keyboard in real time and switch back and forth between the source and gui editors instantly.