On Windows 7, we are hearing about a common problem that you are having: you are having trouble finding the Keyman Desktop icon where it normally lives, down in the notification area or 'tool tray,' which by default is at the bottom right of your screen.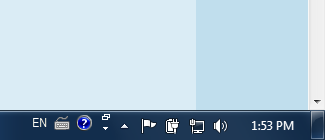 For some of you, things will start well: you'll start Keyman Desktop and the icon will show down in the notification area as expected, but a few minutes later the icon will disappear!
Fortunately, there is a simple solution to this problem.
Click the "Show hidden icons" button:

Locate the Keyman Desktop icon in the small window that appears – there will usually be a real mix of icons in here:

Use your mouse to drag the icon and drop it in the notification area. The Keyman Desktop icon should now remain there even after you restart your computer:

 
The location of the Keyman Desktop icon can also be controlled by right-clicking on the Taskbar, selecting Properties, and clicking the Customize button in the Notification Area section of the dialog.