After the successful launch of Keyman for iPhone and iPad, we set our attention on developing the Android equivalent. It's now available on the Google Play Store as Keyman!
We've optimized the keyboard layout and design for phone, 7-inch tablets and 10-inch tablets, ensuring an easy to use and seamless typing experience across any Android device. As with the system keyboard, there are separate keyboard designs for phones and tablets.
With over 600 languages available, you can use the Keyman app to type a message, and then send it to your contacts via email, text, Facebook or Twitter.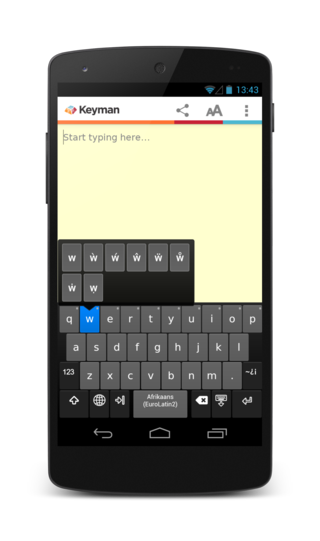 You can find the Keyman app user guide here: Help for Keyman
There were some issues that we faced when developing for Android. For instance, OS version 4.2 and 4.3 (Jelly Bean) presented font rendering issues for some scripts. You can find the full list of known issues and their current status here:
http://www.tavultesoft.com/kb/?id=83
Keyman for Android Developers
The Keyman for Android Engine SDK lets Android (and iOS) app developers integrate any of our 600+ Keyman keyboards into their own app in a few easy steps; in fact we used this SDK when we built Keyman ourselves! To learn more about our SDK, click here.
You can also build custom keyboard layouts for touch devices using Keyman Developer 9. Keyman Developer is the software we built for language experts to build native keyboards compatible with Keyman Desktop and KeymanWeb.com.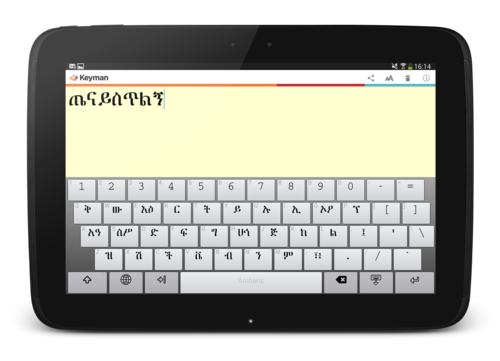 What's Next?
Now we have Keyman available for Android and iOS devices, we'll be working hard on updating all our products to ensure they're easy to use and bug free. Keyman Engine for Web 2.0 will soon be released, and Keyman Desktop and Developer 9.0 are nearing the final stages of development.
We are also working hard on optimizing touch layouts of our existing keyboards so we can make them available for Keyman for Android and Keyman for iPhone and iPad.