For a long time (since iOS 7.1), users of the Keyman for iPhone and iPad apps have been reporting issues when using keyboards that relied on custom font profile installations — we blogged about the issue back in April (https://blog.keyman.com/2014/04/how-to-fix-font-issues-with-keyman-on-ios-7_1/).
With the release of iOS 8, we can officially say that this issue is now resolved! Downloading and installing a font profile for a keyboard (for example Amharic) now works correctly, with the fonts remaining registered even after device restarts.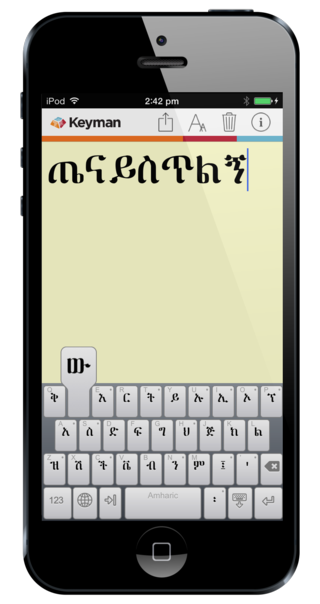 This means any text written that requires a custom font now displays correctly wherever you use it, be it the messages app, mail app, notepad app or Facebook.
Get Keyman on your iPhone or iPad
If you don't already have Keyman installed, get it here!

Steps to update your iPhone or iPad to iOS 8
Open the 'Settings' app on your device.
Open the 'General' settings.
Touch 'Download and Install'. (Please note that iOS 8 requires 4.6 gb of space on your device to install).
Follow the prompts.
You can learn more about iOS 8 at the Apple website: https://www.apple.com/ios