Update 18 Sep 2014: This issue has been fixed in iOS 8.  Read more.
In the last couple of weeks, since the release of iOS 7.1, we have started receiving reports from Keyman for iPhone and iPad users of issues with fonts.  Specifically, the missing character square box, or question mark in a box, has started appearing for some users, both within Keyman and in other apps on the device.
There are two separate issues that we have identified.  The first is a bug in Keyman, which we have addressed and are in the process of releasing through the App Store now.  This bug can cause fonts to fail to appear within Keyman, as illustrated below: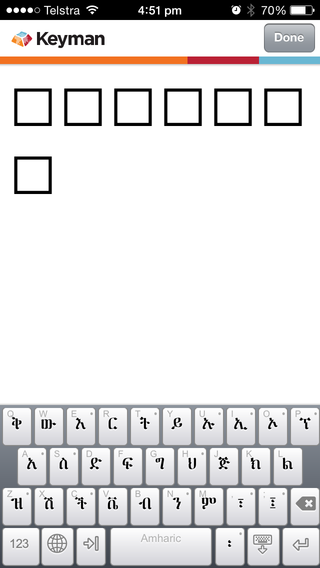 The update will mean that fonts will again work correctly within the Keyman app on iOS 7.1: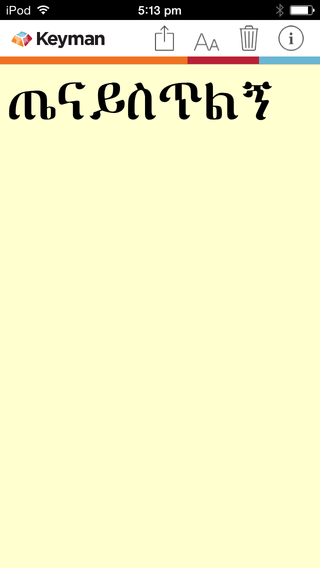 Hey, that's also a sneak peek at some of the changes in Keyman 1.2 — don't tell anyone!
However, a second issue has arisen with iOS 7.1: when an iPhone or iPad is restarted, any installed font profiles do not register correctly and are unavailable for use in any app.  This issue arises with font profiles regardless of whether Keyman has been installed or not: it is not an issue related to Keyman.  However, it does of course impact the Keyman experience pretty severely, so we have reported this problem to Apple and are continuing to investigate and chase the issue.
When this issue arises, you will tend to see missing characters in any app: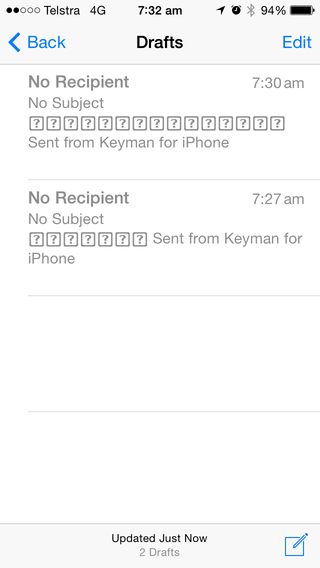 This issue appears to be related to the system font linking in iOS 7.1: if you use an app that accepts formatted text, the correct font will be displayed wherever the formatted text is.  However, for apps such as Notes, or the list view of the Mail app (as pictured above), the font linking fails to select an appropriate font.
We have not identified an easy or consistent workaround to this problem, but the following can help:
Close all apps: double-click the Home button and then swipe each app that appears up to unload it.
Uninstall the font profile: in Settings, General, Profiles, select the appropriate font profile and choose Remove.
Restart the device: hold the power button until you are prompted to switch the device off, and then restart it.
Reinstall the font profile, through Keyman: you should uninstall your keyboard (swipe it left in the keyboard list) and reinstall it to be prompted to reinstall the font profile.
Start your apps again.
In some cases, even after following these steps, the iPhone appears to cache incorrect character shapes for the text in question.  However, over a little time, this caching effect does disappear and the language fonts appear to work again, until the device is restarted.
We know this isn't great, so we are working to find a better solution and will update this post if and when we find something.