We celebrated the release of Keyman Desktop 8.0 with some commemorative t-shirts and mugs. You can win or buy a T-Shirt or Mug yourself! And there's a fun little story about the design as well.
With the release of Keyman Desktop 8.0, I wanted to do something special for the team, and so late one evening put together some mug and t-shirt designs with Zazzle: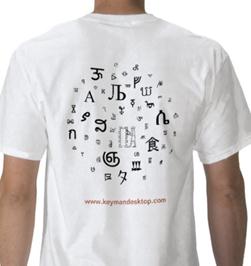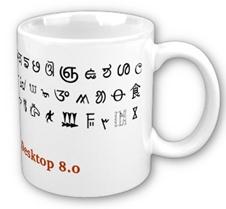 As I have rather limited graphic design ability, I was actually quite pleased with the designs, and ordered a few of these mugs and t-shirts to give as a surprise gifts to Peirce, John and Gary in celebration of the release of Keyman Desktop 8.0.
I'm happy to say that they liked the mugs and t-shirts, and I now drink all my tea and coffee, at the office at least, out of a mug-of-many-languages. I have to admit that even I, the designer of the graphic, cannot readily identify each and every one of the scripts. I have to look some of them up… Can you identify them all?
Then one evening, John (my father) and my mother took up the challenge of identifying each and every one of the characters on the mug. And discovered a mistake!
Can you spot the mistake? I'll give you a hint: one of the larger letters on the t-shirt is rotated. And on the mug too, of course.
That's what comes of trying to do these things late at night — by the time I got to the letter in question, I was cross-eyed from looking at so many different writing systems, I just didn't even see that it was sideways.
The letter in question is the Mongolian vowel OE (U+1825):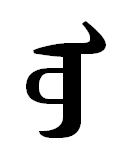 With a little imagination, one could believe it looks like a pregnant horse when rotated: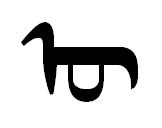 So, how did this happen? Well Mongolian is traditionally written vertically from top to bottom in columns running from left to right. Curiously, when embedding Mongolian in a horizontal script such as Latin, the script is rotated 90 degrees. In computing terms, vertical text is not well supported, so the 90 degree rotation became the default Mongolian font on my computer.
Perhaps this is an acceptable way to write this Mongolian letter on the mugs and t-shirts. Nevertheless, I've rotated the letter on the designs, and now you also can buy the t-shirts online.
I'll give a free t-shirt or mug, your choice, to the first person who correctly identifies all the scripts in the design!
For a limited time, we will offer these t-shirts and mugs for sale through Zazzle: