Welcome to Keyman 14.0 Beta
We are pleased to announce that Keyman 14.0 is now in beta!
We have been working hard over the last year to improve the quality of Keyman. We've fixed hundreds of bugs and made many small changes to different parts of the software to improve your experience using it. In this blog post, we'd like to highlight just a few of the changes we made.
Read more about all the changes at the launch page for Keyman 14.0.
A small note before we get into the new features: we have renamed Keyman Desktop to Keyman for Windows, which we feel is a little more consistent, now that Keyman is available on so many platforms. We'll probably just call it Keyman most of the time, as we always have!
Keyboard Search and Install
In Keyman 14, we now have a consistent keyboard search experience across all supported devices. Keyboards are always distributed in packages, both through keyman.com, or by sharing with friends and coworkers. For most keyboards, the same package file can be installed on all platforms. The installation of Keyman itself together with keyboards has been streamlined and tweaked for each platform — Windows, macOS, Linux, iOS and Android, reducing the number of decisions you need to make and at the same time giving you more control.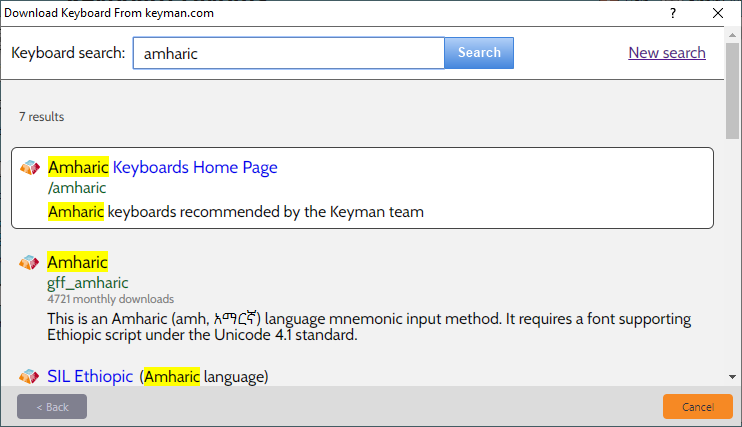 On Windows, gone is the huge long list of languages. Instead, you can now search for keyboards by name, by language, by country or other keywords. You can search a wide variety of dialect names and alternate language spellings. You can even search in the language of the keyboard — if you have a way to type it handy!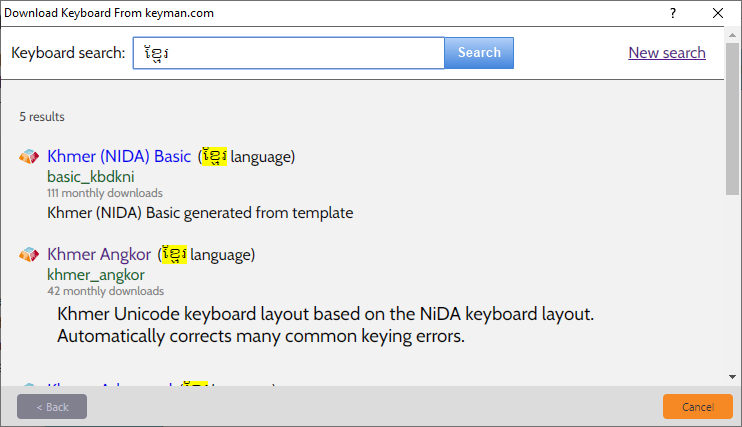 The keyboard searched is backed by an all-new database of keyboards and languages which is updated multiple times a week with new and updated keyboards.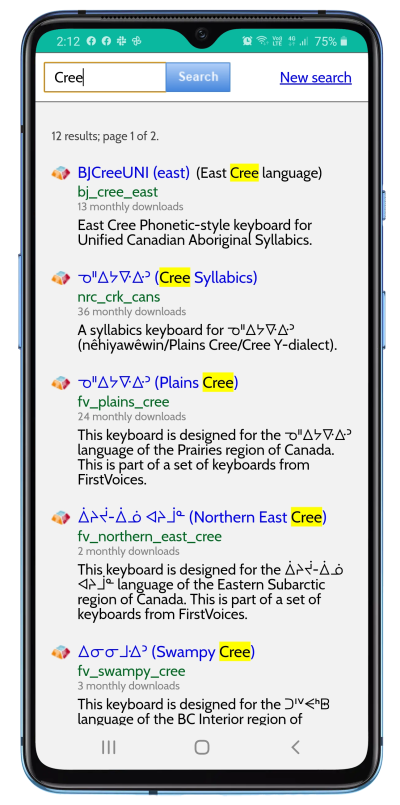 When you install the keyboard, you can choose which language it should be associated with, at install time — and Keyman 14 is now smart enough to figure out that if you searched for French, you want to install the keyboard for French, not Albanian!
If you choose to search for a keyboard on the web, at keyman.com/keyboards, the interface will be the same as that in the app. And if Keyman is already installed on your device, your browser can skip the whole file download and pass the keyboard information directly into Keyman Configuration!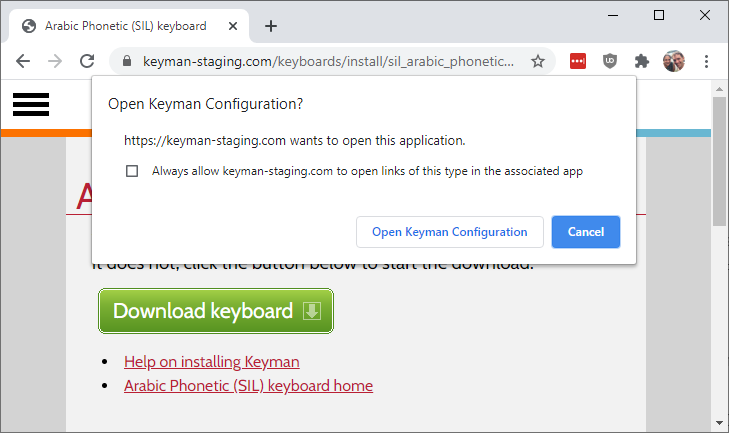 Localizable User Interface
The user interface for Keyman for Windows (formerly known as Keyman Desktop) has been translated into a number of languages over the years. But it has always been a bit of a tiresome process. We're pleased to be able to tell you that we have consolidated the translation interfaces using CrowdIn and made it possible and easy to localize Keyman across all platforms — except macOS, for which we ran out of time in 14.0, so we'll hopefully get that last one done early in version 15.
Now we just need you to come along and help us with the translations — get started at translate.keyman.com!
Improved integration with Windows
With each version of Keyman on Windows, we aim to improve the integration, making your language keyboard feel more like a part of Windows and less like an "add-on". In Keyman 14, we have extensively rewritten the language association, making it more reliable and consistent, and reducing the complexity of associating a keyboard layout with any language.
If you choose to exit Keyman now, Keyman will no longer remove its keyboard layouts from the Windows input method list. This reduces issues which sometimes arise when adding and removing keyboards from this list. If Keyman is not running when you choose a Keyman keyboard, it will start up again automatically. For most users, we suggest leaving Keyman running at all times, however, as this gives the best language switching experience.
Streamlined configuration on Windows
Keyman Configuration on Windows has done away with the OK and Cancel buttons, and now matches many other applications which apply changes immediately.
Some may feel that this is minimalism gone too far, but we think this is more consistent. After all, some actions such as adding a keyboard couldn't be cancelled anyway. But we've opted to throw a little hint into the dialog for our existing users so they don't go mad looking for the missing OK button! Along with this cleaned up interface, we also removed our long-standing dependency on Internet Explorer for presenting the configuration dialog (did you know it's all web pages under the hood?) and threw in a "System Settings" dialog which gives you cool low level technical switches and dials to control every aspect of Keyman running on your system.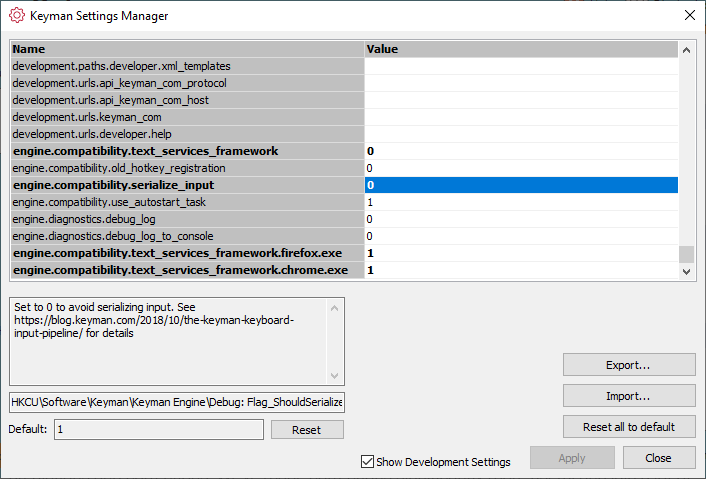 Keyman for macOS
We have made some smaller changes to Keyman for macOS — we hope to do more in upcoming versions — but we've improved application compatibility with a number of programs, added support for European-style layouts in the On Screen Keyboard, and tidied up a number of other bugs.
Improved predictive text corrections
Much of the work in Keyman on mobile devices has been under the hood improvements to text predictions and corrections. We've made corrections significantly more useful and laid a lot of groundwork for some significant improvements in upcoming versions.
Development Tool Improvements
In Keyman Developer, we've improved cross-platform consistency for compiled keyboards (for example, we now support notany and context on mobile devices), refreshed our BCP 47 support, and made a number of improvements to lexical model compiling with normalization of words and merging of duplicates.
Get Involved
We'd love to have you involved in the project. There are many ways you can help: get involved in the Keyman project now!
14.0 Beta Feedback
Please send feedback about Keyman 14 to the Keyman Community site or submit bugs and feature requests to our Issue Tracker.