With the latest release of Keyman for iPhone and iPad (version 1.2), we've added a highly requested feature — the ability to download custom keyboards to your iOS device.
We've also resolved some bugs and issues from the previous version, as well as updating the UI for iOS 7.
Installing a custom keyboard
To install a custom keyboard, you will first need a link to the keyboard definition on a website or in your email.
If you want to build and deploy your own keyboard, you will need some technical skills for this, and can read our full step-by-step instructional on how to do this here.
Once you have a website or email with a link to the keyboard definition, follow these steps on your iOS device to download the keyboard into the Keyman for iPhone and iPad application:
1. Click the link to your custom keyboard definition file. The link I am using is for a Tamil99 keyboard. (Note: typing the link into your browser URL bar won't work; you will need to include the link in a web page or email)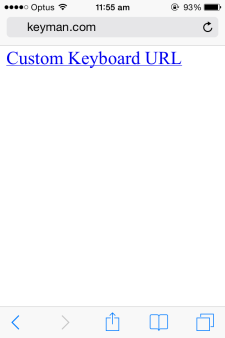 2. Click 'Download'. This will fetch the keyboard and font specified from the json file: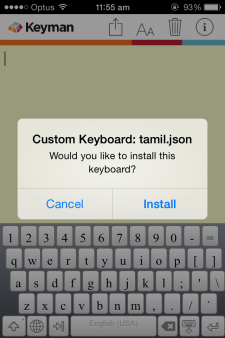 3. The keyboard is successfully installed!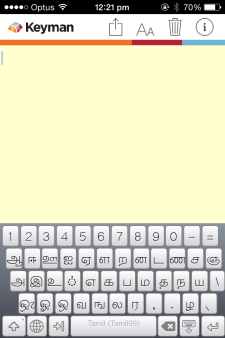 Along with the custom installable keyboards feature, we've updated the UI for iOS 7 — you'll notice that the share, font-size, delete text and information buttons have been moved to the top menu and their icons have been refreshed. Along with these changes, we've also fixed up a few issues.
Bug fixes:
– Font display in iOS 7.1 and later is improved
– Egyptian Hieroglyphic keyboard works correctly
– Click sounds when typing now correspond precisely to each touch
– Some keyboards which displayed UTF-8 encoding bugs now load correctly.
Known issues:
– iOS 7.1 and 7.1.1 have a problem with installed font profiles: once you restart your device, and in certain other situations, the installed font profiles become unavailable and language fonts will fail to display. While this is not a bug in Keyman as such, it can impact usage of your language in some apps.  We are working on identifying other solutions to this.